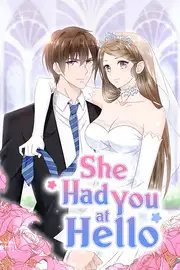 She Had You at Hello
By
Manhua • Romance
About This
Summary
Because of a lie, Yi XiangNuan went missing for five years. Her ex-boyfriend, Su Chen, proposed to her on their first meeting when she came back! He threatened to ruin her married life, but life after marriage was not quite as he had said. It didn't matter; she was unconcerned in the first place. She simply wanted the person who had harmed her family to face justice. She buried her head in the pursuit of the truth, ignoring her husband. Su Chen was extremely dissatisfied with it.
Su Chen: Didn't we promise you'd hide behind me in fear and let me protect you? You take a step back. Allow me to handle it.
Yi XiangNuan: Come on, husband; I'll do everything I can to support you.