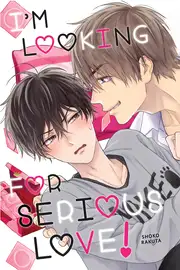 I'm Looking for Serious Love!
By
Manga • BL
About This
Genres
School
Drama
Slice of Life
BL (Boys' Love)
Adult Women
Summary
Innocent country boy Miyazawa Kyouhei has just moved to the big city of Tokyo for college. Imagine his shock when a chance meeting with his next-door neighbor, cocky playboy Takara Tomohiro, confirms every one of his fears about wild and debauched city slickers! Kyouhei's self-consciousness is only made worse by Takara's playful, provocative attitude, and the two of them clash right from the start.
Despite that, Takara seems to be going out of his way to look after Kyouhei as he begins to navigate his new life in Tokyo, and Kyouhei finds himself drawn more and more into his orbit. Will the thread of mutual attraction between them prevail over Takara's careless playboy ways? After all, Kyouhei's not looking for a one-night stand — he's looking for serious love!