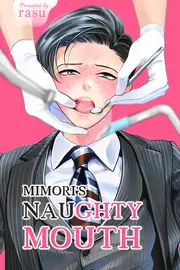 Mimori's Naughty Mouth
By Mobile Media Research
Manga • BL
Explicit Content
Content may contain violence, sex, nudity, or strong language. Please confirm your age to read.
About This
Genres
Romance
BL (Boys' Love)
Adult Cast
Love Polygon
Medical
Adult Women
Summary
"Do you feel it inside your mouth? ...During the treatment, it was erected all the time, right?"
Mimori, a businessman's largest secret is that【his mouth is his erogenous zone】. He had been avoiding dentists all his life, but suddenly his wisdom tooth starts to hurt. He felt pleasure during the treatment when the dentist fiddled inside his mouth, and he can't keep down his voice and erection...! As he blushes from embarrassment, the Doctor tells him, "Shall I help you?" and suddenly kisses him! His slacks are undone and he felt the tongue slither on his hot excitement...

Or scan QR Code to download app