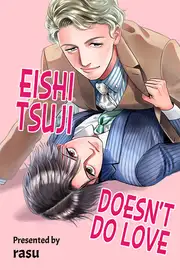 Eishi Tsuji Doesn't Do Love
By Mobile Media Research
Manga • BL
Explicit Content
Content may contain violence, sex, nudity, or strong language. Please confirm your age to read.
About This
Genres
Romance
BL (Boys' Love)
Adult Cast
Love Polygon
Workplace
Adult Women
Summary
"While working an overseas assignment, Tsuji saves one of his co-workers, Nakano, as he is getting accosted on the street. While Nakano looked nothing like Mimori, the man he has long had one-sided feelings for, he did check the boxes for a friends-with-benefits sort of deal.
"You like taking it, don't you?" After a night of passionate Q&A, their no-strings-attached relationship was supposed continue without any hitches...
However, right after repatriation, Tsuji finds out that Mimori started dating another man, prompting him to confess the feelings he has kept hidden for years, only to be rejected in no unclear terms... Nakano offers to help him drown his sorrows in raw, rough sex but also drops a bomb the next day... "Tsuji, I've been in love with you for a long time."
The long-awaited spinoff detailing the fate of Eishi Tsuji, the fearsome love rival standing between Mimori and Itsuki in ""Mimori's Naughty Mouth"", is finally here!"

Or scan QR Code to download app