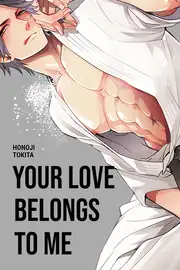 Your Love Belongs to Me
By MEDIBANG
Manga • BL
Explicit Content
Content may contain violence, sex, nudity, or strong language. Please confirm your age to read.
About This
Genres
Romance
School
Drama
BL (Boys' Love)
Adult Women
Omegaverse
Summary
"Like I'd ever have the hots for a gorilla!"
It's war between Karate and Judo as their respective club leaders Ishio and Mochizuki sling insults at each other one minute and horny for each other the next. Ishio's pure-hearted and hot-tempered. Mochizuki is a decent guy but rough around the edges. Every day of their lives brings another fight over the cramped martial arts hall.
One day, Ishio finds himself flustered after catching Mochizuki naked in the changeroom. Mochizuki, having caught Ishio off guard, comes up with a very certain strategy: He's going to use his sex appeal to stir up Ishio. Whenever and wherever, he embraces him, pushes him down, and chases after him...

Or scan QR Code to download app