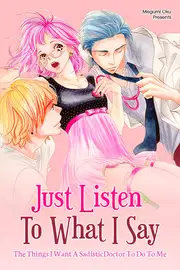 Just Listen to What I Say - The Things I Want A Sadistic Doctor to Do to Me
By MEDIBANG
Manga • Romance
Explicit Content
Content may contain violence, sex, nudity, or strong language. Please confirm your age to read.
About This
Genres
Comedy
Romance
Adult Cast
Love Polygon
Adult Women
Summary
"Shut up... Don't try to resist." He's not kind or sympathetic. He doesn't love me. But I still felt like I wanted to submit myself to him...
Makoto is a newbie comic editor. After a one-night stand she's worried she might be pregnant, so she goes to a gynecology clinic for an examination. There she meets a hot doctor, who is unlike any other guy she's ever seen! She unwittingly gets exited being examined by a hot guy, and then he...! He may be hot, but he doesn't understand women's feelings at all. While Makoto gets mad at his insensitive comments, she also feels strangely attracted to him...
The other guys she knows are much nicer to her, and she also meets a handsome younger guy who tries to get close to her. But she still can't forget about that sadistic doctor!

Or scan QR Code to download app