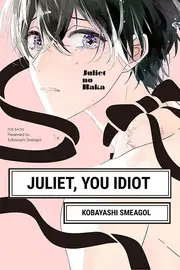 Juliet, You Idiot
By MEDIBANG
Manga • BL
Explicit Content
Content may contain violence, sex, nudity, or strong language. Please confirm your age to read.
About This
Genres
Drama
BL (Boys' Love)
Adult Women
Childhood Friends
Omegaverse
Summary
I'm sorry we bonded...
A story between two mismatched hearts: a single-minded yet-sincere alpha, and a somewhat daft and stubborn omega. They're supposed to be in love with each other, but it turns out all they have is heat.
Luka the omega and Taisei the alpha are bonded. They live apart, only 'seeing' one another when Luka is in estrus, and as soon as the deed is done, Taisei is out the door. Luka can't bring himself to ask him not to leave. But all the small things tug at the heartstrings...

Or scan QR Code to download app