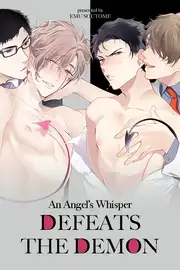 An Angel's Whisper Defeats the Demon
By MEDIBANG
Manga • BL
Explicit Content
Content may contain violence, sex, nudity, or strong language. Please confirm your age to read.
About This
Genres
Supernatural
Fantasy
BL (Boys' Love)
Adult Cast
Reincarnation
Workplace
Adult Women
Summary
Humans reborn as Angels and Demons get caught between their present and past in this love story.
"So I died while having sex. What of it?" A murderous love between an Angel and Demon!
Cause of death: a one-night stand! That is the history shared between the Demon Kuroishi and Angel Hoshiuchi, coworkers at the same company in their past life.
"You're really cute in bed!" In contrast to the humming Hoshiuchi, Kuroishi only feels resentment, feeling as though he had been used as a replacement for Hoshiuchi's girlfriend…
This bewitching Angel and gullible Demon enter into a love-hate relationship.
"A Waltz with a Gentle Incubus"
An Angel who hates Demons, Arima, is ordered to help out the caretaker of a botanical garden, Saeki, who happens to be…an incubus?!
Learning about the tragic death of Saeki, whose face is scarred, Arima decides to help soothe the desires of Saeki, who has entered into heat…
This is the true love story of a serious and uptight Angel falling in love with a faint-hearted Demon.

Or scan QR Code to download app