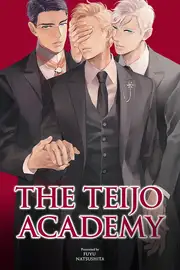 The Teijo Academy
By
Manga • BL
About This
Genres
School
Drama
BL (Boys' Love)
Love Polygon
Adult Women
Omegaverse
Summary
Follow the story of Haruta, who just wants to support his ex Nachi, and so enrolls in Teijo Academy. The "Academy" part isn't just a name; it's complete with all the trappings of the upper classes. There's even an Elite Four, who each excel at a different virtue: moral uprightness, along with physical, academic, and artistic ability.
As the next in line in a family of politicians spanning generations, Haruta's partner Nachi is expected to also venture into the political world, and so to make this happen he breaks up with Haruta and enters Teijo Academy to follow in his father's footsteps.
Despite having broken up with Nachi, Haruta follows him to Teijo, hoping to support him in his political endeavors. But Teijo Academy is for elites, where Haruta's sense of what is normal doesn't apply...