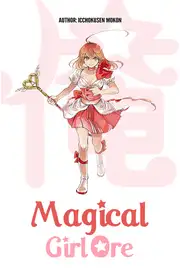 Magical Girl Ore
By
Manga • Comedy
About This
Genres
Comedy
Fantasy
Magical Sex Shift
Magical Girls
Super Power
Teen Girls
Summary
"I want to protect the person I love..." -- with that one wish, a girl's life changes completely!
Witness the miracle that brings to life her pure wish, and the battle that follows. Saki Uno, aspiring idol.☆ Oh no! My dear Mohiro is being attacked by a demon! At that moment, I decide to sign a magical contract with a scary older ma.... I mean, Kokoro-chan. You can see the result for yourself! The battle is tougher than I expected. It's... hard to explain, but anyway I'll do my best, so thanks for your support in advance!
A girl's love is the source of her magical powers. As one demon after another attacks, she faces them in desperate battle. All to protect the one she loves... What will be the conclusion now that her earnest wish has been granted?
The girls jump into the fight with hope ringing in their hearts! Their only thought is to protect the people they love with the strength of their slender arms. Saki fighting for Mohiro, and Sakuyo fighting for Saki. As the story reaches its climax... Come, magical girls! Defeat the demon king in the name of love and peace!