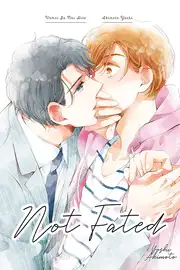 About This
Genres
Romance
BL (Boys' Love)
Adult Women
Age Gap
Omegaverse
Summary
"Even if it's hopeless, I'm not gonna give up! No matter how many times I get rejected or how much I get hurt, I won't stop feeling this way!"
So says the bright and optimistic university student, Shizuku Suguya, about the man that got him out of a spat of trouble: Masataka Kizaki. Shizuku feels it's fate. He tests the waters at the production company that Masataka manages but is turned away without even being able to speak to him. Determined to make it happen, Shizuku then attemps to stand in for a model in a commercial who is taking a day off from illness...
A story between a handsome company president with a traumatic past and a stubbornly-driven newcomer model.