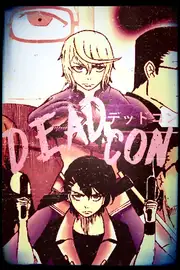 Explicit Content
Content may contain violence, sex, nudity, or strong language. Please confirm your age to read.
About This
Genres
Action
Horror
Adult Men
Survival
Zombies
Summary
DEADCon is a loveletter to exploitation films, exploitation anime, anime pop culture and zombie pop culture. DEADCon follows Kaz, Bastion, Cramer and Lilly, four friends heading to IchigoCon in Florida. This is Kaz's first foray into convention going and joins his trio of friends for the time of his life. However, the Con goes from a dream come true for the friends to the ultimate nightmare: the living, one by one, turn into living dead... and the four friends find themselves in the middle of a coming apocalypse. Not all is what it seems as they find themselves protecting a mysterious Con goer from a Voice Actor turned villain, known as Richter Payne. The group must discover the motives of this psychotic maniac, keep this mysterious Con goer safe and stop the apocalypse... one bullet at a time.
Experience the over-the-top mayhem in this epic grindhouse manga that's filled to the brim with humor, intense action and a constant barrage of swearing and bullets! Welcome to the Con That Is to Die For!

Or scan QR Code to download app