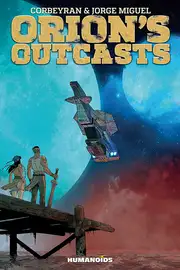 Orion's Outcasts
By Humanoids
Comics • Action
About This
Genres
Action
Adventure
Sci-Fi
Adult Men
Gore
Space
Revenge
Summary
A Sci-Fi saga set in the "Retro Worlds" universe created by Julia Verlanger, one of the most celebrated French science fiction authors of the 1970s.
PUBLICATION IN 2 VOLUMES - COMPLETED WORK.
"Outcast!" The sentence is handed down as the iron brand burns Kolhen's arm. Now, instead of his warrior tattoo, the young man wears the mark of the rejected, the "outcasts" as they are known on the planet Orion-XB12557. Determined to prove his innocence and to get revenge on those who framed him, Kolhen escapes captivity with the help of the fiery Tryana, another of society's pariahs. On his quest, Kolhen meets a mysterious woman with golden hair, who's armed with strange and powerful weaponry, and who claims to be an envoy from another planet: Earth.

Or scan QR Code to download app